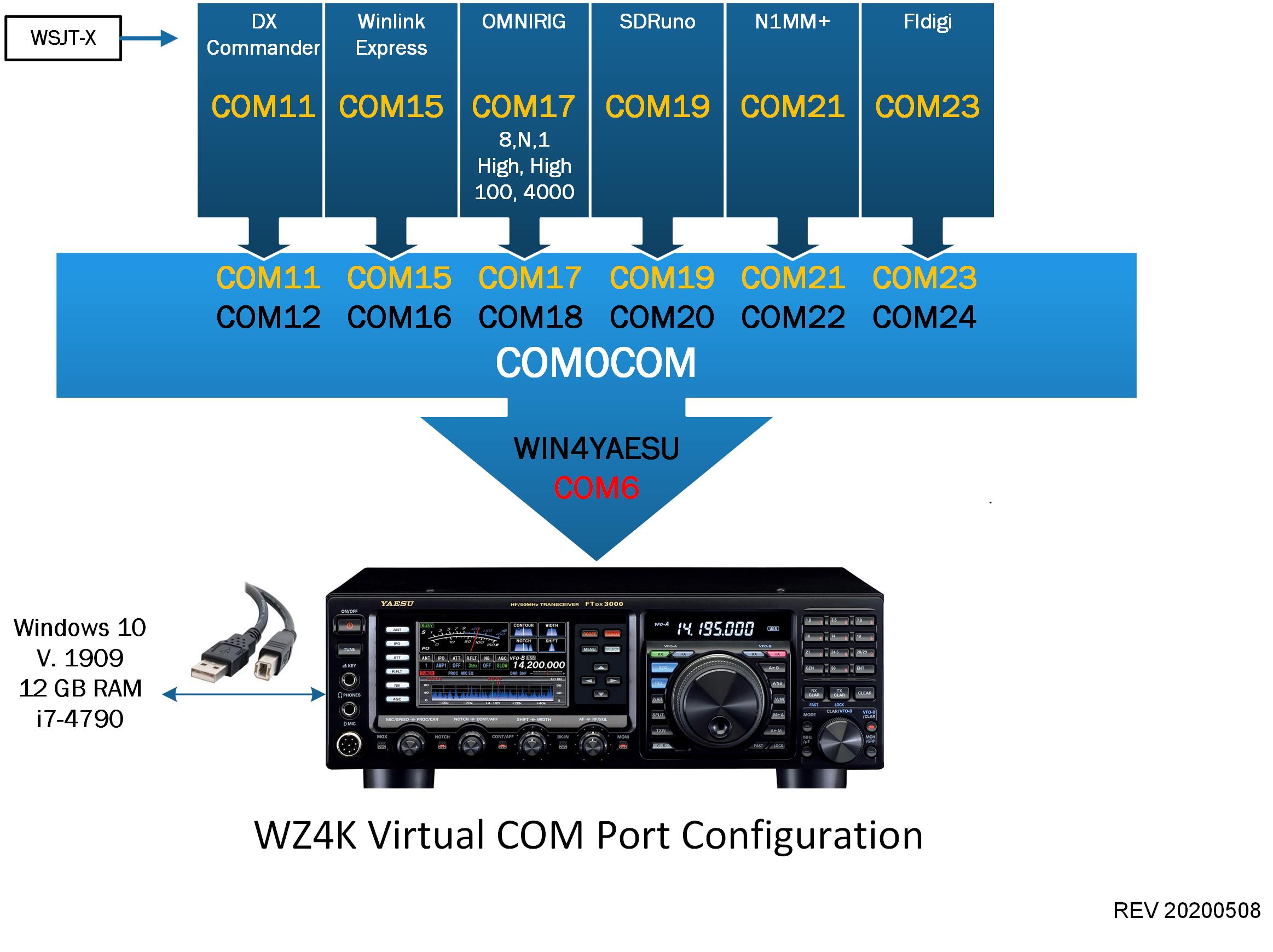 I use DXCommander in conjunction with WIN4Yaesu to ultimately control the 3000. I do this because WIN4Yaesu (W4Y) allows for connecting up to 6 Virtual COM ports to control the rig. The diagram above shows what is mapped thru the COM ports to the radio via W4Y.
I migrated to Commander and the DX Lab suite from Ham Radio Deluxe when they had major issues a few years ago. Haven't looked back but I see they have really turned things around with support and service. I really rely on DX Keeper as my primary logger and everything I do flows through Keeper. Keeper automagically uploads to all of the major on-line logs such as LoTW, QRZ, ClubLog and eQSL. The support from Dave is astounding.
W4Y is $60 but I think well-worth the cost and provides a virtual CAT interface that is functional. There are 2 Virtual COM ports on the Yaesu – one for CAT control and the other for audio.
I use a now officially unavailable COM port emulator called comOcom – they've gone commercial and it is pricey! I have a comOcom alternative – contact me if needed.
Following the diagram, DX Commander is assigned to Virtual COM port 11 which is paired to Virtual COM port 12 within comOcom. V-COM port 12 is then "connected" virtually to W4Y which then makes the physical connection to the rig via USB. Similarly, all of the other SW is connected through their respective COM ports.
If you skip W4Y — you would simply map the assigned COM port for the radio's Virtual COM port directly to DXCommander vice through W4Y. The benefit of using W4Y is that I can run pretty-much ALL of the SW concurrently with no conflicts (with exception of N1MM+) and control the radio. DX Commander also bridges WSJT-X to the rig via W4Y. All the others bypass Commander.